In 2011 the Wildflowers of Mann Project embarked upon an important research mission to discover the Island's Ancient Woodlands.
We found that the presence of oak and hazel were the strongest indicators of site interest and if we found these two species growing together we invariably found many other rare and uncommon species of plant and animal.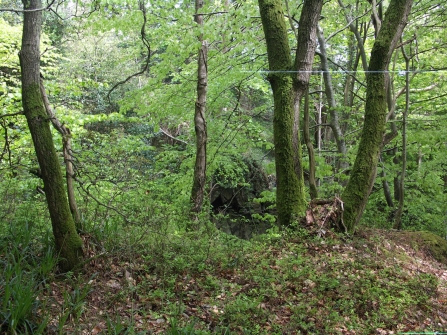 The results were surprising with over 100ha of woodland identified over 30 sites, much more than we had expected. Some of these woods were in known wildlife hot spots such as Dhoon Glen, but others have been unexpected treasures such as the remote Brookdale ravine. 
To find out more, download the report and the site inventories below: 
Oak Hazel Woodlands of the Isle of Man 
The Woodlands Report comes in two parts; the second part has been reproduced in seven inventory sections, all of which can also be downloaded as pdfs from this webpage, as can the accompanying Ancient Woodland Mollusc Survey 2011.
Oak Hazel Woodlands of the Isle of Man Part I 
Oak Hazel Woodlands of the Isle of Man: Part I [PDF]
Oak Hazel Woodlands of the Isle of Man Part II 
Ballaglass Glen, Maughold; Ballure, Ramsey; Barnell, Peel; Bishopscourt, Kirk Michael; Block Eary, Sulby. 
Brookdale, Glen Auldyn; Colby Glen, Colby; Crogga Glen, Santon; Dhoon Glen, Maughold; Elfin Glen, Ramsey; Garwick Glen, Laxey. 
Glen Auldyn, Glen Auldyn; Glen Dhoo, Foxdale; Glen Duff, Sulby; Glen Helen, St Johns; Glen Killey, Lezayre; Glen Kylley, Dalby. 
Glen Maye, Glen Maye; Glen Mona, Maughold; Glen Mooar, Laxey; Glen Roy, Laxey. 
Glen Roy, Laxey (maps) 
Glen Tramman, Lezayre; Groudle Glen, Onchan; Lower Ballabeg, Laxey; Narradale, Sulby. 
Nut Glen, Ramsey; Ohio, Sulby; Santon Gorge, Santon; Silverburn, Ballasalla; Skyhill, Glen Auldyn. 
Ancient Woodland Mollusc Survey 
Ancient Woodland Mollusc Survey 2011 Part I [PDF] 
Ancient Woodland Mollusc Survey 2011 Part II [PDF]