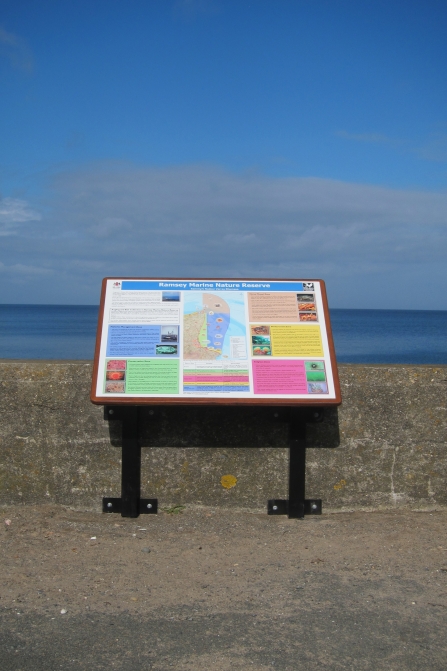 Visit our network of marine scene information boards  around our Island's coastline.
Manx Wildlife Trust has a series of viewing sites around the Island's coastline providing a great opportunity to see and learn more about our coastal and marine life.
Detailed information panels show images of the species you are likely to see, such as seals, dolphins, basking sharks and birds, as well as information on how to spot them and when. The accompanying binoculars provide people with the opportunity to better view the coastline and its wildlife.
The locations are: Marine Drive, Douglas; Kallow point, Port St Mary ; Bradda head, Port Erin; Niarbyl, Dalby; Breakwater at Peel; Old Grammar school in Castletown harbour; and the Ayres visitor platform, at the Ayres National Nature Reserve.
In collaboration with the Department of Environment, Food and Agriculture (DEFA), we also have a series of information boards around Ramsey Bay providing information about Ramsey Bay Marine Nature Reserve. The information panels show images of some of the species that are found in the Bay, such as sea grass and horse mussels, and the bye laws associated with the zones within the nature reserve.