Looking for that perfect gift for a loved one?
Buy beautiful items from our shop and help raise much needed funds to support our important work.
Our shop in Peel is crammed with lovely things for everyone!
Our shop is on the ground floor of the Manx Wildlife Trust offices and is run entirely by volunteers.
Our best buys:
Beautiful glass animal paperweights and Tide jewellery 
A range of excellent binoculars and other optical goods
Children's toys, books and games, all made from natural materials where possible
Emma Ball's range of mugs, trays, chopping boards and tea towels
Nicola Dixon and Jeremy Paul prints and cards
Eco-friendly goods including pocket shopper bags, bamboo coffee cups, bees wax wraps for food and reusable water bottles
Kitchenware, mugs, trivets and turned wooden bowls
A range of books about wildlife and the Island and the 'Wild Mann - Seasons' DVD
Come and visit us!
Opening hours:
Monday to Saturday: 10:30am - 5:00pm
Closed Sundays 
Christmas Opening Hours
Thursday 24th: 10:30am to 4pm
Christmas day, Boxing day and Sunday 27th: Closed
Monday 28th - Wednesday 30th: 10:30am to 5pm
New Year's Eve: 10:30am to 4pm
New Year's Day: Closed
Saturday 2nd: 10:30am to 5pm
Monday 4th: Normal hours
Closed all Sundays.
You will find us at:
7-8 Market Place, Peel, Isle of Man, IM5 1AB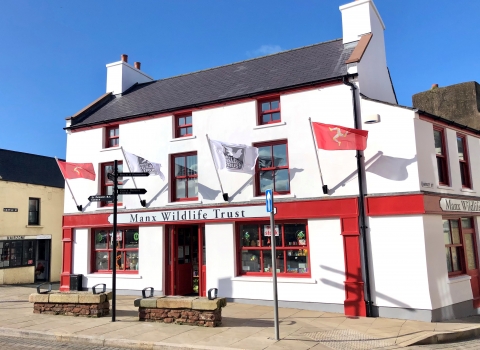 Volunteer in the shop
We have already welcomed several new volunteers in the last year- but there is always room for more! Training and practice is given before going behind the counter. 
Interested? Get in touch