Invest in wildlife
The Isle of Man has a beautiful and varied landscape with fascinating wildlife – but it faces many challenges and needs your help to protect it. Investing in Manx wildlife is the natural first step in demonstrating to employees and the community that you care about our rich and diverse environment. We offer corporate work days, sponsorship and corporate membership to businesses and organisations.
Corporate membership
We welcome support from businesses that want to invest in the local community and that share our passion and pride for the Isle of Man's wild spaces. Investment in our Corporate Membership Scheme is a clear indication to your staff, your customers and the public that you are committed to building a healthier environment for wildlife and people. We believe that the business sector has a very important role to play in helping to sustain and protect our local environment. 
We offer a range of Corporate Membership packages, designed to appeal to the Island's diverse business community - choose from the Gold, Silver and Bronze options described below.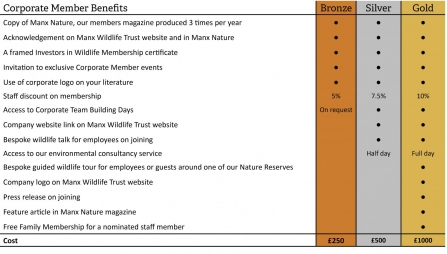 Corporate work parties (Wild Work Days)
Our work parties give fantastic opportunities for team building, development and a bespoke introduction and guided walk to one of our nature reserves.
You'll enjoy a day in the outdoors with your colleagues while helping local wildlife. Depending on the size of your group you may be able to join our Midweek Muckers on a reserve or we are able to offer exclusive events to our Corporate Members depending on the time of year and tasks available. 
Prior experience is not necessary and staff can enjoy a novel and memorable day away from the office, helping Manx wildlife through hands-on conservation tasks.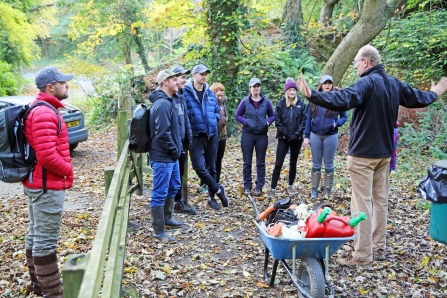 Sponsorship
We provide different sponsorship opportunities whatever your company's particular interests. From printing of leaflets to funding a Marine Assistant to coordinating seal surveys or supporting Ramsey Forest Project  - there are plenty of options!  We can also create a bespoke publicity plan for your business with promotion to our membership and the wider audience on the Isle of Man. Whether you have a budget of £95 or £20,000 there is an opportunity to get involved. 
We're proud to be a Corporate Member of Manx Wildlife Trust. It has been amazing to see them continually strive to meet their conservation aims. Over the years, we have provided both financial and practical support. Our recent community project has supported the 'Ramsey Eco-Active' project. It's more important than ever to help sustain and protect our local environment.
Our corporate members
Thank you to our wonderful corporate members for helping us to protect Manx wildlife for the future.
Sterling Trust Limited - Silver Corporate Member
Aon (Isle of Man) Limited - Silver Corporate Member
Colas Group - Silver Corporate Member
Pricewaterhouse Coopers LLC - Silver Corporate Member
Appleby (Isle of Man) LLC - Silver Corporate Member
Ocorian - Silver Corporate Member
KPMG - Bronze Corporate Member
Manx Utilities - Bronze Corporate Member
Clearwater - Bronze Corporate Member
Corletts - Bronze Corporate Member
Ramsey Crookall & Co Ltd - Bronze Corporate Member
Tower Insurance Co Ltd - Bronze Corporate Member
LJ Management (IOM) Ltd - Bronze Corporate Member
Nedbank Private Wealth - Bronze Corporate Member
Beaumanx Property Ltd - Bronze Corporate Member
James Osbourne Financial Services Ltd - Bronze Corporate Member
Brightlife Ltd - Bronze Corporate Member
Callin Wild - Bronze Corporate Member
M&P Legal - Bronze Corporate Member
Isle of Man Bank - Bronze Corporate Member
Affinity Management Services Ltd - Bronze Corporate Member