Volunteer With Us: We are looking for volunteers interested in tackling climate change and promoting the restoration of upland habitats.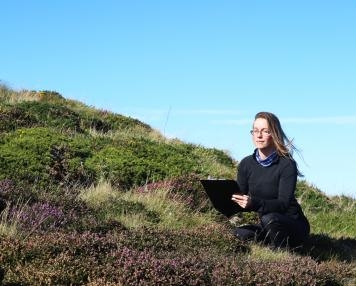 If you enjoy spending time in the hills, Manx Wildlife Trust have an important project that you might be able to help with.
Much of the Island's uplands are covered in peat, but at the moment we have little data on the depth and extent of this peat. Peat is an important store of carbon, and globally peatlands store more carbon than all other vegetation combined. We need to know how much peat we have on the uplands so we can plan how to restore the peat-forming habitats and protect this valuable carbon store. This will benefit wildlife and have an impact on our carbon emissions.
Measuring the extent and depth of the peat is a time-consuming process, so we would love to have some help! Volunteers don't need any prior experience but need to be fit enough to spend several hours in the hills and need to have suitable warm and waterproof clothing and footwear. If you can navigate then that is a bonus, but if not you will be paired with someone who can, or given adequate training. There is some flexibility but most surveys will initially take place on week days. Tea and biscuits will be provided, as will lovely sunny weather!
If you are able to help with this project or have any questions, please contact Sarah Hickey by emailing sarah@manxwt.org.uk or calling 342799.