Swimming enthusiast swimming around the Isle of Man to raise money for Manx Wildlife Trust and The Blue Marine Foundation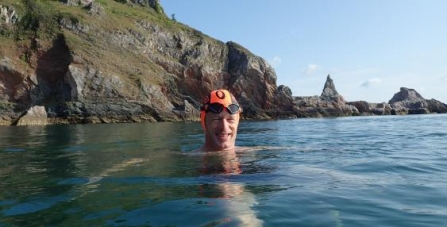 Mike Davis is a lifelong outdoor swimming enthusiast, who inherited this passion from his mum, who is from the Isle of Man. On Monday (12th August), Mike will embark on a challenge to swim around the coast of the Isle of Man in support of local marine conservation projects. The swim which will cover between 80 and 100 miles will take mike over 20 days to complete. Mike will be raising money for Manx Wildlife Trust (MWT) and the Blue Marine Foundation.
After a few years living in Southeast Asia, he is currently based in London, where he lives with his wife, son and daughter. Mike works for an organisation called Global Witness that investigates corruption, human rights abuses and environmental degradation in different parts of the world.
Mike said: 'I'm doing this in part because I have always loved swimming, above all in the sea, without being especially good at it. Another part of my motivation is that I'd like to get to know the Isle of Man better. It is where my mother and that side of my family, going back over 500 years, are from.'
'As a kid I would regularly visit the Isle of Man and my earliest experiences of birdwatching were with my grandfather in his boat, around the Island's sea cliffs, caves and rocky bays. Preserving marine and coastal ecosystems like those I intend to swim through around the Isle of Man is something I believe in passionately. I am keen to do whatever I can to assist the most effective organisations working in this field.'
Mike continued: 'I love swimming but I'm a far from expert swimmer. In fact, to get ready for this, I've had to go back to a swimming coach and spend several months trying to fix my wonky front crawl technique.'
'I've not done something like this before so it's very difficult to tell how I'm going to find it. The distance is about 80-90 miles, depending on how wiggly a line I end up swimming in. I'll do it in instalments of probably round 4 miles a day, so it will take me twenty something days.'
'As I go, I'll keep a blog, which will cover such topics as: swimming(!), the marine life around the Island and efforts to conserve it and some (sometimes shady) family history.'
MWT are thrilled that David is raising money for their conservation projects but also bringing attention to marine conservation in the Isle of Man. MWT CEO, Tim Graham said: 'It always inspires me to see how our volunteers want to support MWT's work to protect Manx wildlife. Mike's challenge really helps to highlight our link with the sea and why we have to safeguard it for future generations. We have new marine nature reserves but it also remains important for climate change mitigation and wildlife. It even keeps us all healthier whether exercising on or in it, or just living near and experiencing the stress reduction of being by the coast.'
Mike Davis added: 'The Isle of Man is blessed with incredible, and very diverse, landscapes and has a wonderful coastline and marine wildlife. I am delighted to have a chance to support an organisation that is doing such important work to preserve this natural beauty and biodiversity at a time when the threat of climate change is constantly reminding us of the need to look after our planet.'
People can find out more and sponsor Mike at www.justgiving.com/teams/IsleofManSwim