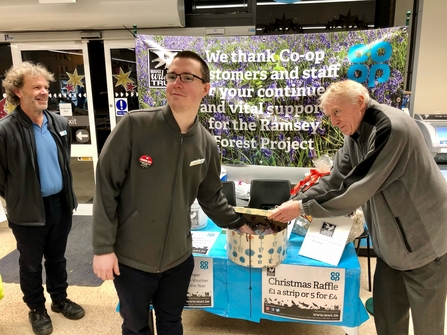 Saturday 12th December, saw Manx Wildlife Trust (MWT) volunteers selling raffle tickets in the Coop's Ramsey Christian Street Superstore which was followed by a cheque signing to mark the ending to MWT being a beneficiary of the Coop community fund.
MWT was one of 3 charities in the North (Laxey, Peel and Ramsey stores), that were beneficiaries in 2019-2020 of the Coop 1% for local causes generated by Coop members buying Coop branded products.  MWT is the very first environmental charity ever to be chosen.  Ian Davies says: 'This was always going to be a big part of our fund-raising this year, but none of us knew just how big given the effects of Covid-19. This is supporting the Ramsey Forest project which will have Island-wide ramifications, a national forest project of mixed woodland; a continuous corridor for wildlife; a place for rare Manx plants to flourish; a unique place of natural beauty for people of all ages from all parts of the IOM to relax, play, exercise; providing stimulation by nature all around and through the playground infrastructure we have already constructed and will extend.'
This raffle was the second that the Coop have hosted for MWT and an amazing £888.95 was raised on the day.