Manx Wildlife Trust Presentation evening
We had a great time at our annual presentation evening where volunteer awards and education course certificates were presented at Greens in St Johns.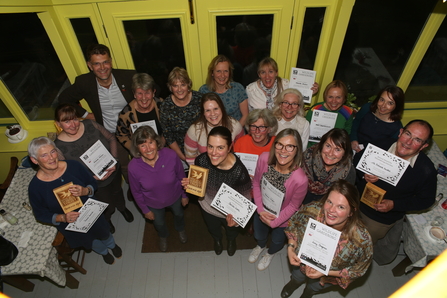 On Wednesday 10th November we held our annual presentation evening at Greens, in St Johns. We had our volunteer awards and certificates for our 2021 adult education courses presented by Viv Davis, MWT Chair, and Leigh Morris, MWT CEO.
Congratulations and a massive thank you to all our volunteer award winners. Thank you for all you do for #ManxNature!
The Midweek Muckers

The Midweek Muckers regularly complete in the region of 2,500 hours of practical work on the reserves in a year which is a huge contribution to conservation and financial saving for MWT. This year saw a monumental effort to cut and clear grass at Close Sartfield and Goshen by hand.
Sheila Norris

Sheila Norris was nominated for the vast amount of work she has done over several years in co-ordinating all the work on the Ballachurry Wetlands Nature Reserve
Ian Costain

Ian Costain has organised the Southern Group volunteers for 10 years and is an indispensable work party regular.
Christa Worth

Christa Worth is a Calf volunteer, whose enthusiasm for bait monitoring has helped considerably in ensuring this important programme is achieved each month. Christa very much became 'one of the team', always happy to help and embracing Calf life
Felicity Cain

Felicity Cain is one of our founders, most active members and a driving force within the movement since 1970.
Rachel Hartnoll

Rachel Hartnoll recently retired from buying for, and managing our Peel Gift Shop, Rachel's years of service saw the shop develop into the success that it is today
Well done to everyone who completed our education courses, Wildlife Gardening, Wildlife Observer and Magnificent Meadows, this year! We were thrilled so many of you were able to join us on Wednesday evening, photographed below.